Beginner's Guide to Become a Truck Driver: 6 Steps You Should Know
Truck drivers keep America's economy moving—literally. On average, according to the Census Bureau, trucks move 70.9% of all commodities. This explains the importance of the truck driving industry as part of the U.S. supply chain, especially during the pandemic. Even now, with the rise of e-commerce businesses, the driving industry still has a high demand for professional truck drivers. With that being the case, you might consider truck driving as a potential, long-term career. The driver's duties are routine, involving the loading and unloading of cargo, keeping records of shipments and mileage, and some general maintenance of the vehicle. The salary for a driver average out to $77,848 per year.
What does a Truck Driver do?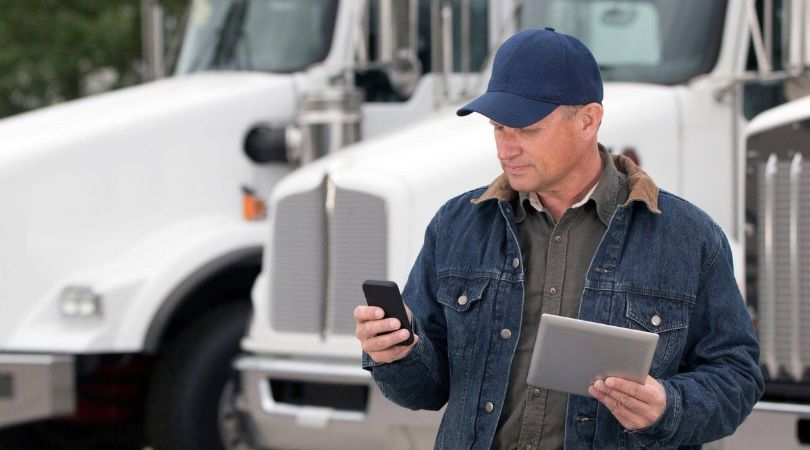 Career Overview
As mentioned, truck driving involves transporting goods from one place to another while obeying traffic laws and industry regulations. However, there is more to this job than just driving itself.
In-depth Look at Truck Driving Duties
The typical shift of a truck driver ranges from the normal 14 hours to the 16-hour exception that pertains to special cases. However, the (FMCSA)  limits drive time to 11 hours with a mandatory 30-minute break after the first 8 hours. Therefore, drivers must maintain an accurate log of their driving hours to show to a DOT official if requested. Other job duties, depending on the company, may include the following:
Coordinating routes and communicating with dispatchers and other drivers.
Loading and unloading cargo while maintaining the proper balance of weight
Inspecting the vehicle for issues and performing general maintenance
Reporting issues with the vehicle and accidents
Offering customer service
Of course, these duties will vary in relation to being an OTR (over the road) driver who's gone for days at a time or driving in the same vicinity and returning home the same day.
Steps to Becoming a Truck Driver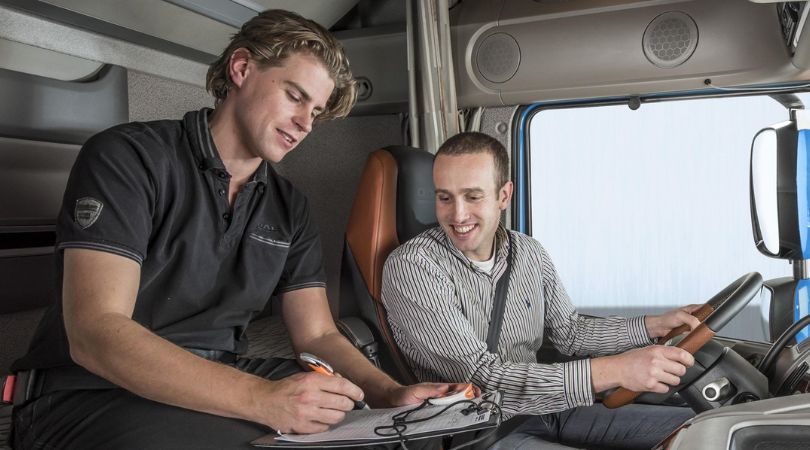 Step 1 Take and Pass Your State's Regular Driver's License Exam
To be able to start your training, you need to obtain your standard driver's license. The fees range from $20 to $90, and this step may even enable you to get a job driving small delivery trucks while you work towards your CDL.
Step 2 Get Your High School Diploma or GED
Additionally, you'll need to earn your high school diploma or a GED to gain entrance into a truck driving school and ultimately, to be able to gain employment.
Step 3 Start Your Formal Training 
Once you've researched truck driving schools and found the ideal choice, you can apply for entrance. Whether the program is housed at your local community college or is a private training facility, you can expect to take a year to complete the courses and obtain your CDL. In most cases, financial aid is available. Likewise, you can complete your CDL classes through a company-sponsored program that spans about 6 weeks and costs $6000, give or take. The perks (depending on the company's policies) include reimbursement if you stay with the company for a certain period or financing options.
Step 4 Earn Your CDL and Other Relevant Endorsements
After you have completed your training and driving practice hours, you can take the tests for a CDL A or B. Furthermore, you can test for additional endorsements, like those for tankers or passengers. Endorsements could be required by your employer, or if you're still looking for a job, they help you to stand out to a prospective employer—not to mention the job security they provide.
Step 5 Take Advantage of the Job Placement Assistance
If you attended a community college or a private driving school, you may be able to access job boards to help you with employment. Also, you can start networking with various trucking associations like the ATA and Women in Trucking.
Step 6 Complete Your Employer's Finishing Program
Chances are that the company that hires you will have its own finishing program where you undergo additional training and supervised driving for about a month. During this training period, you'll gain experience with the vehicles and equipment specific to your employer.
CDL Classes in Truck Driving Programs
Classes are often divided up. For instance, the selections may be listed as Class A Training and Class B Training with separate driving programs for specific endorsements. Also, you might start off with classroom instruction related to trip planning, regulations, logbook protocol, the truck's components and mechanical systems, inspections, and essential driving skills. From there, you'll progress to the skills training on the truck lot where you learn to operate the vehicle and how to attach and detach the trailer, and later, the actual supervised driving on the road.
About Zenith Institute of Logistics
To learn more about the truck driving industry along with more information about accredited CDL classes in Houston, pay a visit to the Zenith Institute of Logistics. Skilled instructors offer CDL Class A Training, CDL Class B Training, and CDL Class C Training as well as classes for specialized endorsements. Our highly trained instructors offer individual instruction in the field as well as the necessary background and theory to set a firm foundation for acquiring solid commercial driving skills. To take the next step toward your future, contact Zenith.
Recommended Posts
September 21, 2023
August 30, 2023