What Is It Like to Be a Truck Driver
The demand has grown along with our capacity to carry freight. Today, almost everything you see, touch, and use has been transported by a truck at some time. Therefore, it should come as no surprise that many truck drivers like to comment, "If you bought it, a truck brought it." No one is more qualified to testify to the truth of that point than the hardworking men and women who are truck drivers.
You may be curious about what it's like to be a truck driver if you're thinking about working in the freight sector. With that in mind, we offer answers to all your commonly asked questions about this industry.
The Trucking Industry: A Brief Overview
The trucking industry is a cyclical sector made up of businesses that mostly use tractor-trailers to move goods for commercial enterprises. With this industry, almost 60% of trade items are transported, which means the national economy greatly depends on it.
The ATA predicts that total freight volume in the United States will increase from 15.1 billion tons in 2021 to 19.3 billion tons by 2032. That's a growth of 28%, giving people in the trucking industry lots of leeway to grow their businesses and plenty of chances to land a new job for those wishing to enter the field for the first time.
A position as a truck driver may be the best fit for you if you're interested in long-distance freight transport and want a more independent career.
Furthermore, you might be able to choose the type of driving position you want to pursue by learning about the range of options available in the trucking industry. Some of these jobs may include:
Freight hauler
Dry van hauler
Flatbed hauler
Tanker hauler
Less than truckload haulers
Local / Regional haulers
Refrigerated hauler
Auto hauler
Hotshot hauler
Over-the-road truck driver.
The Life of a Truck Driver
A job as a truck driver differs from one that requires you to report to work from 9 to 5 in an office. Your truck serves as both your home and office while you're traveling. Long hours and frequent separation from friends and family are a reality for truck drivers. Though it occasionally feelslonely, life as a trucker may also feel like one huge adventure.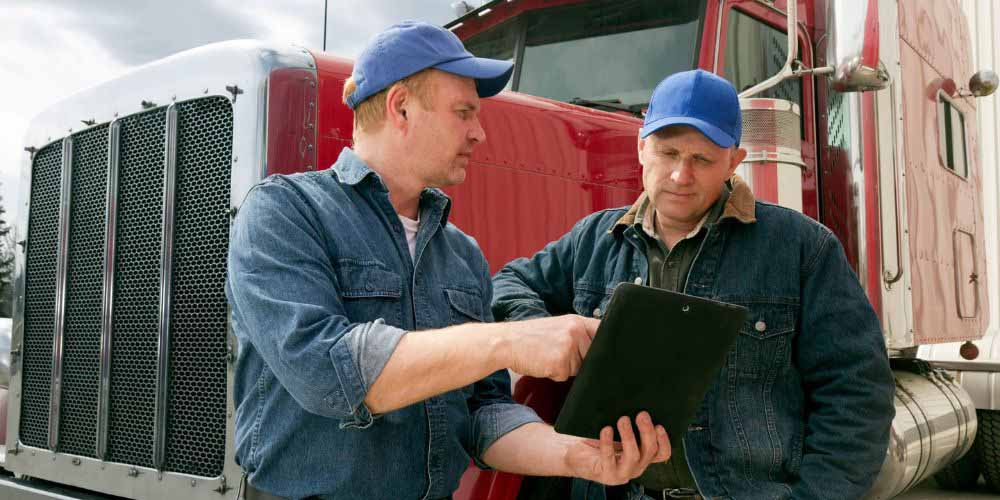 The Daily Routine of a Truck Driver
There are many various kinds of truck drivers, and each has a different set of timetables, daily activities, and obligations.
Many drivers decide to start their day early, frequently rising as early as 5 or 6 a.m. When a driver gets prepared to start the day, they frequently start with a pre-trip inspection of their car, making sure that everything is in working order, for example. After filling up the truck with petrol and stocking up on snacks from home or the nearby convenience store, the driver can either head to a warehouse to pick up a new load or simply start driving.
The vast portion of a truck driver's day is spent traveling between locations to deliver freight. While some drivers may have shorter, local journeys and be able to make many deliveries in a day, others may be in it for the long haul and need the entire day or even several days to get there.
Challenges Faced by Truck Drivers
Long driving hours are one of the biggest difficulties that truck drivers have. Drivers frequently travel for extended periods with few breaks for rest or meals. This poses a serious safety risk because it can be quite exhausting and cause weariness.
A truck driver may also come across the problem of not knowing their schedule from one week to the next. As a result, your sleep patterns may become erratic and negatively impact your health, or scheduling appointments may seem challenging.
Likewise, most trucking businesses pay their drivers by the mile, and because many routes are unpredictable, it can be challenging to predict exactly how much money you'll take home each pay period.
Many truck drivers may experience health issues because of their lengthy shifts spent sitting in the driver's seat, inconsistent schedules, and constant need to eat.
Health and Wellness on the Road
These difficulties faced by truck drivers put their health at risk for things like obesity, depression, diabetes, and high blood pressure. There are a variety of simple adjustments that drivers can make to enhance their physical and mental health to prevent this. We suggest alterations in the following areas:
Start by avoiding sugar-sweetened beverages and opting instead for water or black coffee. From there, consider opting for healthy food choices (chicken sandwiches, vinaigrettes, fruit).
Just 15 minutes of exercise before you start driving can speed up your metabolism.
Create the most comfortable sleeping environment you can.
Make an effort to call loved ones and friends when you can and spend time with them when you're at home.
Professional Development and Career Growth
The trucking industry offers several options for truck drivers to move up in their careers. Experienced truck drivers can contribute their expertise and experience in the trucking industry by training others.
Also, being an owner-operator is an option. In this instance, having or renting your truck means being self-employed and having more freedom in choosing the businesses to contract with, the cargo to transport, the travel routes, and other factors.
Plus, you can work as a supervisor or manager in the transportation industry. For successful cargo delivery, managers oversee the necessary coordination and communication between drivers, carriers, and suppliers.
Different licenses and qualifications are needed for various categories of truck drivers. A Class A CDL is the minimum need for any truck driver, but obtaining a Class B CDL can allow you access to more employment options. You can get employment as a delivery driver, school bus driver, courier, or highway maintenance technician with a Class B CDL. Additionally, the fact that you possess a broad range of trucking knowledge and abilities will set you apart from other candidates in the trucking employment market.
 Future of the Trucking Industry
In the upcoming years, it is anticipated that the logistics and trucking industries will continue to expand and change. The US Freight Transportation estimate by the American Trucking Association predicts a 24% growth in the freight trucking sector. Additionally, this will be responsible for a 67% rise in overall revenue for the transportation sector. Keeping those stats in mind, there are lots of chances for the development of many sectors in the market. It is reasonable to anticipate changes in the types of trucks employed in the sector, such as a complete switch from heavy- and medium-duty trucks to zero-emission vehicles. Moreover, there will be greater participation of women in the workforce.
Conclusion
You are more equipped to decide if becoming a truck driver is the best career choice now that you are aware of what the job entails and the numerous aspects that play a role.
It's crucial to research some of the top trucking organizations and their business models to determine whether you want to start your own trucking company or would rather be directly employed with a company. Whatever you decide, you can count on Zenith Logistics to provide a comprehensive training program that keeps you a step ahead of the rest as you start your career as a truck driver.
Recommended Posts
September 21, 2023
May 4, 2023